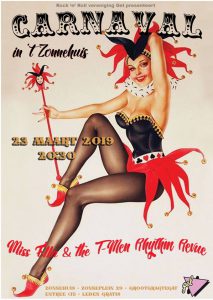 Gel has been the hot-spot in Amsterdam to learn Rock 'n Roll dancing for more than 30 years now. Three times a year Gel throws a big party where everyone is welcome to come and swing with us!

Brabant and Limburg have already had their carnaval, but come and party with us once more in the north of the country. Saturday 23rd of March (this Saturday!!) we will have our own carnaval rock 'n roll party in Grootgragtegat (Literally translates to "Big 'Ole Hole of Canals" = the carnaval name of Amsterdam). We are once again welcomed in the wonderful location of the Zonnehuis. Gel and the Zonnehuis have had many rockin' parties together, so we're looking forward to celebrating again with you at this vintage location in Amsterdam Noord.
Come in your weirdest carnaval outfit and party with us to the music of Miss Ella and the T-men Rhythm Revue! This same night we will also be blown away by DJ Ronald and his rockin' records.
This swinging party is open for everyone, with or without dancing experience. We will provide a free starterscourse at 20:30 in the foyer, taught by experienced rock 'n roll teachers.
Start 20.30
Members of Gel: Free entrance
Entrance: 15,- Starterscourse included (start 20.30)